Basement Waterproofing in Connecticut and Westchester County, NY
Fixing wet, leaky, damp, musty basements in Stamford, Yonkers, Norwalk & nearby
Customer Reviews
By MARY
Bronxville, NY

"PLEASE PLEASE SEND ME A CERTIFICATE OF COMPLETION WHICH I MUST HAVE IN ORDER TO MARKET MY HOUSE & SUBMIT FOR TAX PURPOSES AT..."

By DEavid C.
Bronxville, NY

By Sven V.
Dobbs Ferry, NY

By Donald M.
Dobbs Ferry, NY

By Tara F.
New Rochelle, NY

By Larry R.
New Rochelle, NY
Here at Connecticut Basement Systems, basement waterproofing is our specialty. Since 1987, we've fixed thousands of leaky, wet, damp and musty basements in Connecticut and Westchester County, NY. We've built a strong reputation in Connecticut and New York for being the best waterproofing company and we always strive to be better than the rest.
We help keep basements dry using our own quality, patented products, such as the TripleSafe sump pump, WaterGuard drainage system and SaniDry dehumidifier. Our waterproofing systems are installed by certified specialists and come with a transferable, lifetime warranty.
If you have a water problem in your basement, we can help. Call us or click below to request a no-obligation inspection and free estimate today. We want to help you make your basement dry all the time!
Before and After
Before

After

The homeowners in this Carmel, NY home had a continuing problem with water pooling in the basement and water seeping in through the bottom of their walls. They called the experts at Connecticut Basement Systems and our expert basement waterproofer, Brad, evaluated the situation and proposed a solution that fixed all issues at hand. Brad recommended our WaterGuard French Drain system. The WaterGuard system is the result of more than two decades of research and development by Basement Systems, the world's largest network of waterproofers, and is backed by a lifetime transferable written warranty. This system has been successfully used in hundreds of thousands of basements on more than three continents and is a proven way to permanently dry your basement.

The homeowners can now relax knowing that their basement will stay dry!

Before

After

Wanting to add a waterproofing system to their already damp basement, this New Rochelle, NY family gave us a call to help solve our problems!

Brian Hammac came out, and quickly came up with a solution to their problem! Kryz Wilk came in, and quickly installed our WaterGuard Perimeter Drainage System. This systems works in the interior of the basement, rather than outside of it. It is an innovative interior drainage system designed to permanently solve basement water problems. Once the WaterGuard® system is installed, you'll hardly know that it's there. The drainage channel is hidden beneath a layer of concrete. Only the top edge of the wall flange is visible.

With this new system, this family will never have to worry about water seepage again! Give us a call today for your FREE estimate!
We make your basement dry with customized solutions
Our complete lineup of basement waterproofing products includes all the solutions you need for a dry, comfortable, odor-free basement; no matter what's causing your issues. We offer many solutions for your home, including:
Powerful sump pumps with battery backup
Basement drainage systems
Energy-efficient dehumidifiers
Leaky crack repairs
Vapor barriers
Waterproof wall panels and flooring
Basement windows
Water heater flood protection
Besides being the trusted waterproofing company in Connecticut and New York, we're also the parent company of the largest network of basement waterproofing contractors. Our products have been installed in hundreds of thousands of basements and crawl spaces throughout North America.
With no lasting waterproofing solutions available, we decided to develop our own, and created a line of patented basement products. Our tested, proven, award-winning products come with transferable warranties, ensuring your home is protected year after year.
Get a free estimate from your local basement repair expert
Your damp or wet basement can cause more than just a headache; these issues can create bigger problems like mold, mildew, rot, structural damage, and a variety of health problems.
If you think you have a basement waterproofing problem, request a free basement inspection and estimate today. Your certified specialist will find the source of the problem and provide an estimate for the best repairs for your home.
Connecticut Basement Systems services homes in Connecticut and New York, in areas like Danbury, New Haven, Fairfield, Greenwich, Ossining, New Rochelle, White Plains and surrounding areas.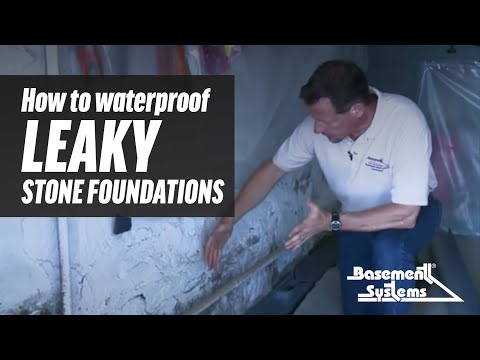 How to Waterproof Leaky Stone Foundations
Welcome to Episode 1 of the All Things "Basementy" Video Series! In this series Larry Janesky, owner and...
Watch Video
Related Videos
Looking for a price? Get a no cost, no obligation free estimate.