About Connecticut Basement Systems
& All Things Basementy!™
Connecticut Basement Systems is the largest basement waterproofing, crawl space waterproofing, foundation repair, basement finishing, and moisture control company in Connecticut for a reason. We've been doing quality basement waterproofing, crawl space encapsulation, basement finishing, and dehumidification since 1987, and serving more than 60,000 Connecticut and New York residents.
We've built a great reputation for honesty, integrity, and high-quality workmanship. Call us, and from the first phone call you'll be greeted in a friendly and professional manner.
About the Owner
Larry is the founder of Basement Systems Inc. and its sister companies - Connecticut Basement Systems, CleanSpace, Total Basement Finishing, co-founder of Supportworks, and Dr. Energy Saver - in total, an award-winning and successful enterprise located in Seymour CT, with exactly 400 dealers in 3 countries.
Larry's goal is to improve the lives of millions of business owners, their employees, their customers, and humanity in general, through business education, development, and excellence.
Click here to read Larry's full bio
Our system design specialists will come to your home on your schedule and find solutions to your basement or crawl space problems, and our trained team of production specialists will handle all the installations and maintenance for you.
As a basement waterproofing contractor in Connecticut, we know that our integrity and honesty have made us as successful as we are.
Winning the CT Better Business Bureau's Torch Award for Marketplace Ethics three times demonstrates our desire to help customers solve their wet basement or crawl space problems to the utmost of our abilities -- it's exactly how we would want to be treated.
About the company
Connecticut Basement Systems is the flagship dealer of the Basement Systems network of more than 300 basement waterproofing and crawl space contractors throughout the United States, Canada, the United Kingdom, and Ireland. We are located in a 96,000 square foot facility in Seymour, where we run our operation that services Connecticut and Westchester County, NY.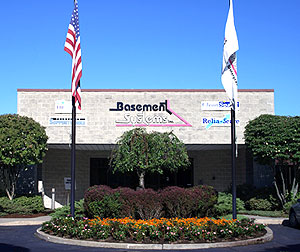 Company headquarters. Connecticut Basement Systems' main office is located in the industrial park in Seymour, CT.
Dedicated team. Employing well over two-hundred workers throughout four different buildings - we are fully-staffed to meet your home improvement needs.
As part of the decision process of hiring a waterproofing or crawl space contractor, the warranty is important, as is making sure that the company has a service department to maintain the system. Most waterproofing contractors in Connecticut offer lifetime warranties, as do we. However, we understand that the best warranty is the one you never have to use -- especially in the case of basement waterproofing. The only time you need to use the warranty is when you get flooded -- exactly what you invested in originally to prevent! A service program from a professional service department can maintain your system through the years to keep it in optimal working order. Make sure that service and an annual maintenance program is a real part of the company's philosophy.
Affiliations & Accreditations
CT Better Business Bureau Awards
Eight of our system design specialists and service people have won the CT BBB's Superior Service Awards for individuals who have gone above and beyond in servicing Connecticut residents. So if you're calling for a Free Estimate and inspection for your wet basement or damp crawl space, or for service on your current system, you'll be pleasantly surprised at the great service you'll receive. Check out our A+ Rating on the BBB!
Since 1987, Connecticut Basement Systems has provided excellent basement, foundation, and crawl space repair services to over 20,000 homeowners throughout Connecticut as well as Westchester County, New York. So no matter what your concern, you can be confident that Connecticut Basement Systems has the expertise to solve any basement or foundation problem you're having. For more company information, be sure to check out our listings on Angie's List, and Yellow Pages!
If need us, we're here to help you. Ask around and I'll bet that you'll find family, friends, neighbors, and colleagues who have used us in the past. Ask them how they liked us and whether their basement or crawl space is still dry. We can also recommend disaster restoration companies throughout the state to help with water damage and mold removal in Connecticut.
Connecticut Basement Systems services all of Connecticut, including Fairfield County, New Haven County, Hartford County, Litchfield County, Tolland County, Windham County, Middlesex County, and New London County, and Westchester County, New York.
Connecticut Basement Systems is dedicated to educating the public about basement waterproofing, crawl space repair, and foundation repair. Please browse our website or contact us for more information.